January 10, 2014 by Amanda Cummings
Have you ever thought your life was so obscenely normal that you`d do anything for some excitement? Well, this is the last thing Lizzie Brown wants. Her normal life all changed when her long lost biker grandmother came through her front door. Yes, that's pretty normal compared the fact that she's a powerful witch. Also, Lizzie's dog suddenly starts talking nonstop, and demons are after her along with a couple dozen pixies. Lizzie has found out she's a bona fide demon slayer and from now on her life is going to be anything but normal. Can Lizzie Brown keep herself sane as she leaves her whole life behind? Or will she succumb and be led directly to the underworld?
The Accidental Demon Slayer by Angie Fox is a comical read with many intriguing situations. It's action packed, keeping your interest till the end.The main character went through many hardships, questioning her own reason. She received help from both allies and enemies, gaining experience along the way. I liked to read about how Lizzie accepted her new reality and changed herself for better or worse.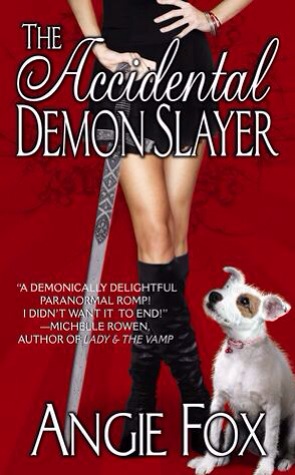 Cover – Angie Fox