April 18, 2019 by Tyler Charnik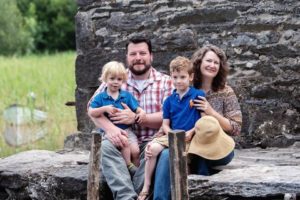 Saratoga Springs High School English Teacher, James Flanders passed away on April 6 at the age of 47. Flanders began teaching at Saratoga Springs High School in 2009 as a substitute. He was hired full time the following year in 2010 to teach English. Prior to Saratoga, Flanders taught at both the Greene County Correctional Facility and in the Niskayuna School District. In 2015 when the Saratoga Pathways Academy (SPA) program launched Flanders was excited to be a part of it because he was interested in the loose, non traditional classroom structure.
English Department Head Bridgette Gallagher's favorite memory of Flanders was that everyone always stole his stapler, no matter what he could never find his stapler and it was never on his desk. In response to his stapler always disappearing, Flanders chained his stapler to his filing cabinet in the English office so that his stapler wouldn't walk.
Fellow English Teacher, Katie Cole remembers when Flanders was trapped in the elevator during her murder mystery party that she threw last year. Cole also touched on the stapler story "he was always worried about who took his stapler, so one day I took it home and baked it into Jello and left it in the English office fridge with a ransom note" Cole said, "but we still ate the Jello and then he wound up chaining his stapler to his filing cabinet."
English Teacher, Julie Cox remembers the Food Friday tradition that began in the English Department. Each English teacher would take turns bringing in food for the rest of the department, "it became a special gathering where everyone got together to share stories and eat food" Cox said. Flanders loved Food Friday, he never missed a Food Friday and was always the first one in the office ready to eat.
Flanders was a kind person and a teacher that truly cared about his students. SPA student, Keegan Dussault said "He would always make us laugh and smile, He just always was a light to our darkness."A caring man that made sure no student felt left out. "He always made sure to say he'll see you again and he would never not let you leave until he said goodbye." Dussault stated.
Another one of Flanders' SPA students, Ava Ciccone reflected on the teaching style of Flanders, saying "He made me love a class I never did well in, having him as a teacher made English class so much more fun and enjoyable." Flanders had a laugh that would light up any room that he entered "His laugh is the first thing i think of, it always made me feel happy and smile" Ciccone said.
In the nine years that Flanders spent teaching at Saratoga, he touched many lives of colleagues and especially his students. His memory lives on all throughout the school with flannel bows on doors to represent his legacy.
The GoFundMe page link is below if you are interested in donating to the family.
https://www.gofundme.com/support-the-flanders-family