By Foster Goff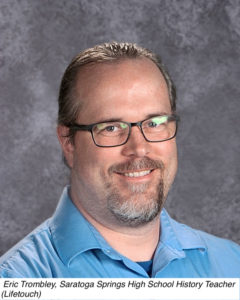 The Social Studies office at Saratoga Springs High School is a vibrant, bubbly bunch of teachers. As they walk through the hallway, they are eager to start a conversation with any student. Mr. Trombley is no exception. SSHS students and teachers love his sarcastic humor and his energetic nature, a manner that makes his students feel comfortable as soon as they walk through his door. Many students know him as the teacher with the crazy ponytail. Students who haven't had the privilege of taking any of his classes want to know more about what sets him apart from other teachers at SSHS.
Although Mr. Trombley labels himself as an open book, many students don't know about his athletic and musical talents as a child and young adult. Mr. Trombley was a Division 1 track and field athlete in college at Springfield College and SUNY Albany. Trombley was also a talented cellist as a child. His family's musical skills are displayed by an auditorium at Maple Avenue Middle School where plays, concerts, and musicals are performed. 
Mrs. Perry said she had known Mr. Trombley long before they were colleagues because his mother was her music teacher. She notes that both Mr. Trombley and his mother are very talented in the field.
A common belief among fans of Mr. Trombley's teaching is that his humor along with his less conventional approach make him the impressive teacher everyone knows him to be. Everyone has a funny story about him. 
Mr. Mishoe said one of the funniest moments they shared together was on a trip abroad with the History Club and Mr. Trombley compared a "beautiful suburban town in Austria to Ballston Spa." 
Mrs. Perry appreciated Trombley's good nature when Perry's daughter greeted him with the abandon of a child. "She ran up to him and patted him on his belly," Perry recalled. 
Students also appreciate the humor he brings into the classroom. Students Maxfield Goldman and Jacob Madkour said, "He can take way more heat than other teachers." They appreciate that he can bring humor to the classroom and think it is much easier to learn in the comfortable environment Mr. Trombley creates.
As history teacher Mrs. Perry put it, "He is fun-loving, inquisitive, he doesn't take the traditional route while teaching, he loves to encourage conversation." Students walk into his class joking around but they finish with meaningful conversation. Madkour said, "He has a good measure of messing around and talking about constructive things." Madkour and Goldman said they have particularly fruitful conversations about music, a shared passion Trombley shares with many of his students. "We've had many conversations about music theory and jazz fusion," Goldman said. The easygoing skill of Mr. Trombley's teaching style helps students learn quickly and easily in his classroom.
Although Mr. Trombley is one of the most loved teachers of SSHS, he admits that his dream job is a National Geographic photographer. He said that would "be a sweet gig." Although he has no real experience in the field. He appreciates the outdoors and loves spending time in nature and would love to be able to experience that on the day to day through his career. If we are speaking realistically, however, he believes if he wasn't a teacher, he would go back to his musical roots and be a musician due to his "natural talent in that field growing up."
Through his unparalleled humor and vast personal experiences, Mr. Trombley exemplifies a caring and extraordinary teacher beloved by students and his colleagues alike.