by Jackson Cherry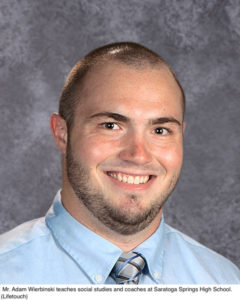 Saratoga Springs High School's newest and youngest Social Studies teacher, Mr.
Wierbinski, is making a big impact among students and staff. Since he graduated from The State
University at Albany, where he completed his undergraduate and graduate studies just three years
ago, he has become a well-known and respected teacher and coach in the SSHS community.
Mr. Wierbinski has always loved Social Studies and says it was his "best and favorite subject." 
The reasons he chose to teach include, Wierbinski said, "One, the fact that I love history, and two, I
feel like I have a lot to give to you guys." 
Mr. Wierbinski's colleagues also seem to agree. Mrs. Perry describes him as "a wonderful teacher, 
young, energetic, with a lot of different new perspectives on education." Fellow Social Studies 
teacher, Mr. Trombley agrees. "He is very much so collaborative, he plays well in the sandbox, 
he's easy to work with, listens to suggestions, and offers good insight," Trombley said. Mr. Wierbinski also 
emphasized his collaboration with the other teachers. "I mean, we talk almost every single day about
different teaching ideas and strategies and present stuff," said Wierbinski.
This collaboration, in Wierbinski's opinion sets the Social Studies Department apart from the others, collaboration and 
freedom. As a teacher in the Social Studies Department Wierbinski has, he said, "freedom to teach 
different varieties. You get to present material in different ways." He particularly enjoys teaching the
class War & Conflicts. "My favorite event to teach is World War 2, any US conflict," said Wierbinski.
It was only a short time ago that Mr. Wierbinski was in school, and in this time, he has
noticed a dramatic change. He said, "You guys have so much more freedom. We couldn't take
out our phones; we couldn't do anything." Since he is such a young teacher, students believe 
Wierbinski can identify and connect with students more easily. Mr. Trombley points out that age is
one of the factors that sets Mr. Wierbinski apart from the other teachers. "He is the youngest, so age,
experience, and probably energy level [are different for him] because I'm just getting old and tired,"
said Trombley. "He seems to get along well with other students, and they seem to get along well 
with him," Mr. Trombley added. 
In his free time, Mr. Wierbinski coaches and goes to the gym. "If Iweren't a teacher, I'd probably be
a college football coach," said Wierbinski. During his time at UAlbany he played football. At Saratoga 
Springs High School, he coaches multiple sports.
Maddy Duchaussee, one of the students that he coached this year said, "Coach Wierbinski is one
of the most understanding and thoughtful coaches I've ever had. Not only were we always
having fun, but I made some of my biggest improvements as an athlete with him as my coach
and am so grateful for that experience."
Mr. Wierbinski has made an impact across the Saratoga Springs High School community in his 
short time here and has affected many students through teaching and coaching. He has also 
brought new and fresh perspectives to the Social Studies Department, making him a
respected and valued member of their team.