by Liam Epstein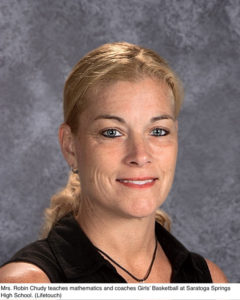 Since this profile was written, the Saratoga Springs High School Girls Basketball team ended
their 2020 season in the sectional finals. The team had a record of 21-2.
Though she seems a normal teacher to some, her girls are at a pivotal moment not
only for the basketball team, but for Saratoga Springs High School. Her loud voice resonates in
the classroom as she teaches her the trigonometric form of a complex number. With a tall stature,
blonde hair, and piercing blue eyes, she has a commanding, even an intimidating, presence.
Robin Chudy is the Math Department Head, a pre-calculus teacher, and coach of the girl's
basketball team.
Chudy studied at Union College in Schenectady, and graduated with the class of
Although she was searching for a school where she could play a higher division of softball,
in order to play softball as well as basketball, she chose the small, private, liberal arts
college. 
To this day, Chudy holds the Union College women's basketball team's all-time scoring
record with a career total of 1,738 points.
Chudy realized that she had a passion for math while at school. She tutored her friends
when they were about to have exams and realized that teaching math was something she wanted
to do.
Now in her seventh year at Saratoga Springs High School, Chudy has been coaching the girls
basketball team all the while, but her coaching career began years before when Chudy started 
teaching.
At 12 years old, Dolly Cairns, a rising SSHS basketball star who recently surpassed her 2,000th
point, found Chudy's wing and slipped under it. Since then, Chudy has watched Dolly grow from 
a little kid with little experience to a serious and well-trained basketball player.
"She is so disciplined and focused on learning not only the skills of the game, but the art of the
game," said Chudy.
Chudy, assistant coach Christopher DeLorenzo, and the athletes, have noticed the positive 
change the team has gone through in recent years. DeLorenzo said, "The team's gotten more 
competitive year after year." For Cairns, this improvement enlivens the work ethic. "I think it's 
gotten more serious, especially as I've gotten older, because all I've wanted to do is win 
sectional titles," said Cairns. 
Eve Crossett, a teammate with her eyes on attending West Point expresses a similar sentiment. 
"We're all really talented," Crossett said, "but this year I feel like it's a lot different." Feeling different 
makes sense, as the seniors realize that this is their last year and they have the possibility of making
school history.
The standards that Chudy sets for the team are high. Players need to be in physical shape. 
Players need to put in time outside of practice, and players need the skills to play the game. 
The rigor that these student athletes go through is evident in the progress
they have made. "Last year we broke a record for our school, which was to make it to a
sectional final game, and I'm hoping this year we actually pass that and win sectionals, which
would be amazing," Chudy said. "We have the talent to do it."
For Chudy, the best part of her day is when she starts teaching in the classroom. She sees
the value of making connections with kids, both in her class and on the court. As
students study unit circles, logarithms, and probability, Robin Chudy puts her students through
the same hard work that her athletes go through. Students must be in shape mentally. Students 
must put in time outside of class, and students need the skills to do math. 
As Chudy said, "Coaching is an extension of teaching, and trying to deliver a message, and 
trying to get kids to learn and to improve."